Barn Quilt Trail of Fayette County & Surrounding Areas
Take a scenic drive on the Round Top area Barn Quilt Trail!
The history of the Barn Quilt can be traced back almost 300 years, to the arrival of immigrants from central Europe (mostly from Germany, Austria and the Netherlands). There is a rich traditional belief that the first barn quilts originated in Pennsylvania and then spread across the country. The barn quilt has been used as a marker, a decoration or a way to find a particular business or family.
The Round Top Area Chamber of Commerce is pleased to announce the Barn Quilt Trail of Fayette County and its surrounding areas. It is a self guided tour of Painted Barn Quilts on homes, barns and businesses in the Round Top Area. To find the map, click on the Map tab above or go to: www.exploreroundtop.com/map/ (Then it is listed under Sample Itinerary).

So, grab a friend or family member and explore the area around Round Top. There is no time frame and no pressure. It's a great way to spice up a country drive. Each Barn quilt has a unique story to tell. The colors are vibrant and are a fun way to enjoy a leisurely day in the country.
To be listed on the Barn Quilt Trail, please email us at info@exploreroundtop.com.
The American Quilt Trail Movement began in Adams County, Ohio in 2001.  Its purpose was to celebrate the heritage of quilt making and honor pioneer women who began the tradition of quilting.  With thousands of quilts on The American Quilt Trail, it has become the largest grassroots public arts movement in our history.
To celebrate the building of our "barndominium" back in 2017, my sister from Wisconsin along with my sister from Austin, suggested they come to Round Top to create a family togetherness memory.  Thus, the first barn quilt in Round Top, Texas was painted and proudly displayed.  The pattern is a variation of the Eight Point Star.
We are delighted to have our barn quilt on display at our "Big Sky Barndo", which hosts a three-bedroom two bath B & B in one half of the barn and hay storage in the other half of the barn.  An invitation is extended to locals and visitors alike to drive by and enjoy our creation.
Located at 919 Rohde Rd, Round Top, TX 78954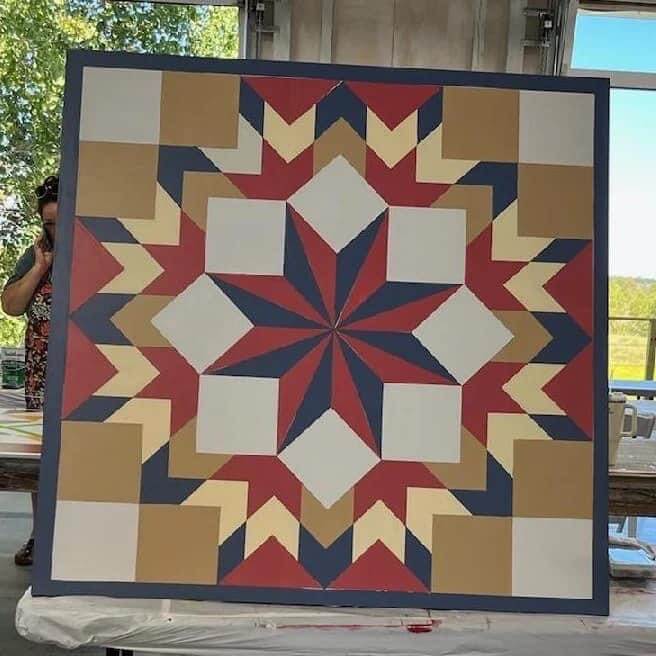 My barn quilt is created from an Amish quilt pattern. I wanted something that showed our love for this great country.
Located at 634 S. Nassau Road, Round Top, TX 78954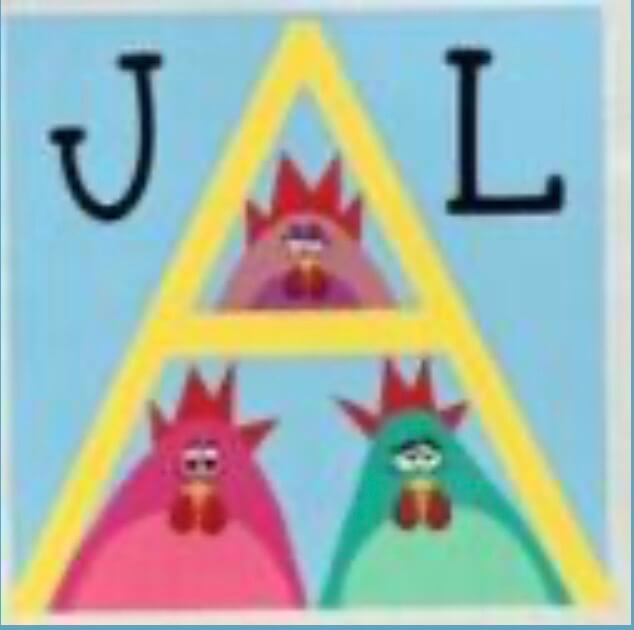 Located at 3130 Finke Road, Round Top, TX 78954
These colors are a nod to our German and Irish heritage and community. The number 12 is of significance to us, and we wanted to include 12 golden triangles as well. Zadra Morgan did an amazing job with this beautiful piece which graces the center  of our enclosed glass patio.
Located at 101 W. Austin St., Round Top, TX 78954
I remember as a little girl, my great grandmother telling me stories of their journey from Missouri to Texas.  She was a little girl then too.  She talked of walking everyday beside the covered wagon, the hardships and the quilting at night.  She was a big quilter until the last year of her life. Busted Oak Cellars is honoring the fortitude of our ancestors as the pushed West and formed this country.  Come out to see our 2 Barn Quilts as you enjoy a nice glass of wine in the country.
Located at 6195 Round Top Road, Carmine, TX 78932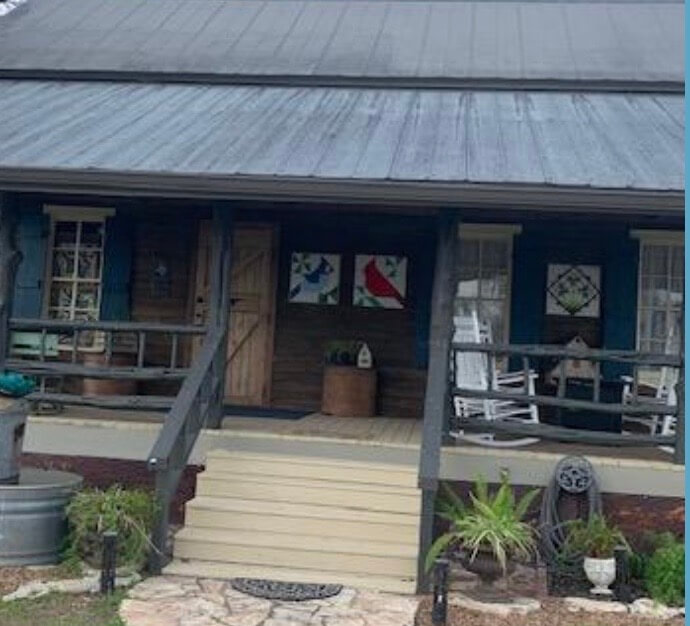 My great grandparents came to this area in the 1841 from Rybí, Moravskoslezsky, Czech Republic.  I visited this area every summer with my parents during my childhood and it has always been a dream of mine to move here one day.  That dream came true 20 years ago when we opened Umland Street Sunday Haus.  I come from a long line of quilters and wanted to honor them by displaying my favorite quilt blocks.
Located at 109 Umland, Carmine, TX 78932
I remember seeing Barn Yard Quilts on barns growing up and traveling with my family to Louisiana. I was always amazed with the designs and I always wondered how the designs were chosen, what was the history behind that design. As an adult I started seeing the Barn Yard Quilts again but more in the Eastern part of America as we traveled to Upstate New York. Again I was amazed and knew I wanted to create my own quilt.
When I heard that Zadra offered this class locally, I jumped on the opportunity to make my own quilt for my home. The design and colors of my quilt just match me and my home. I'm so Happy to finally be able to be a member of The Barn Yard Quilt Society.
Located at 1324 Schoenberg Road, Carmine, TX 78932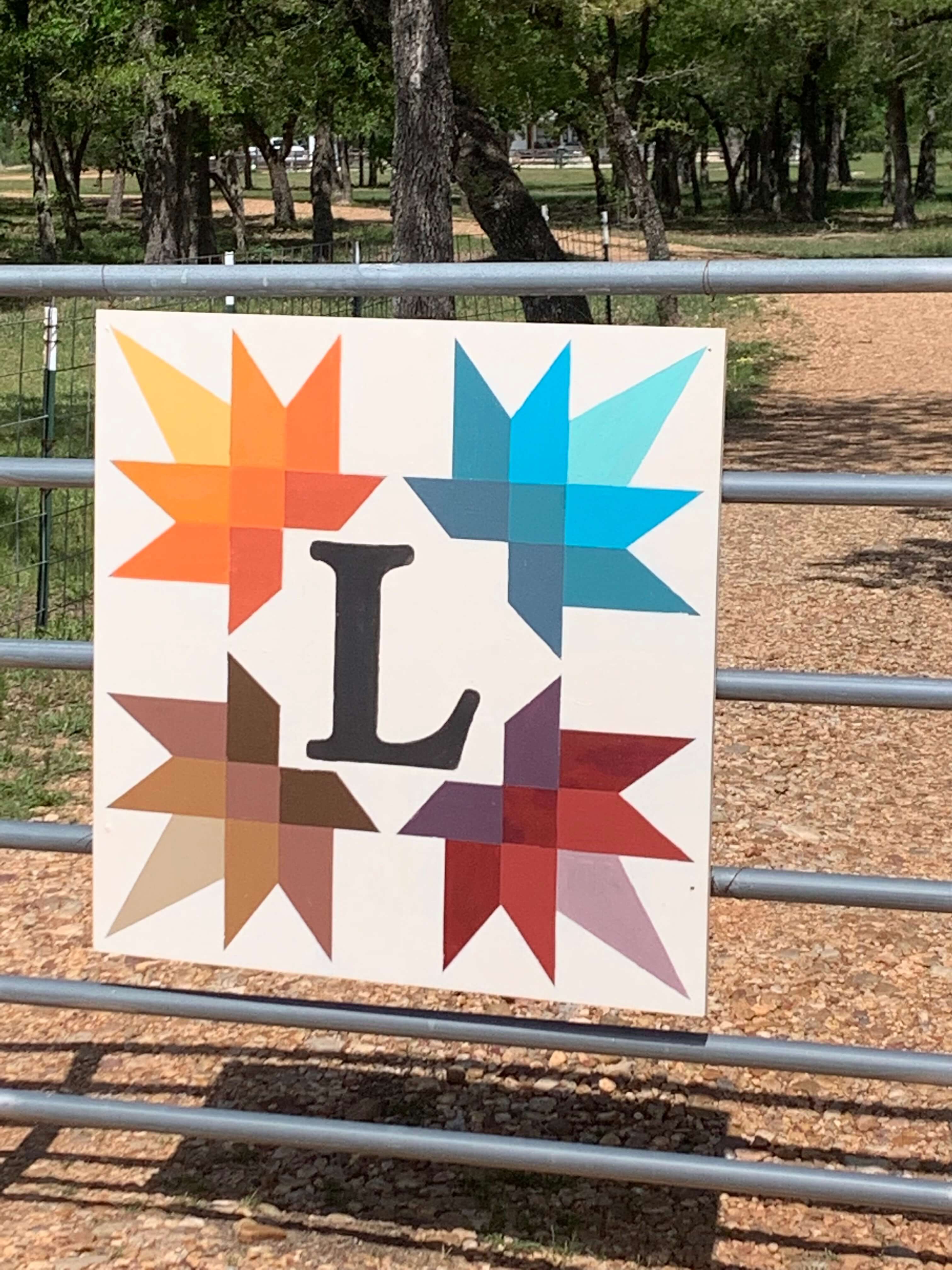 Located at 5939 Round Top Road, Carmine, TX 78932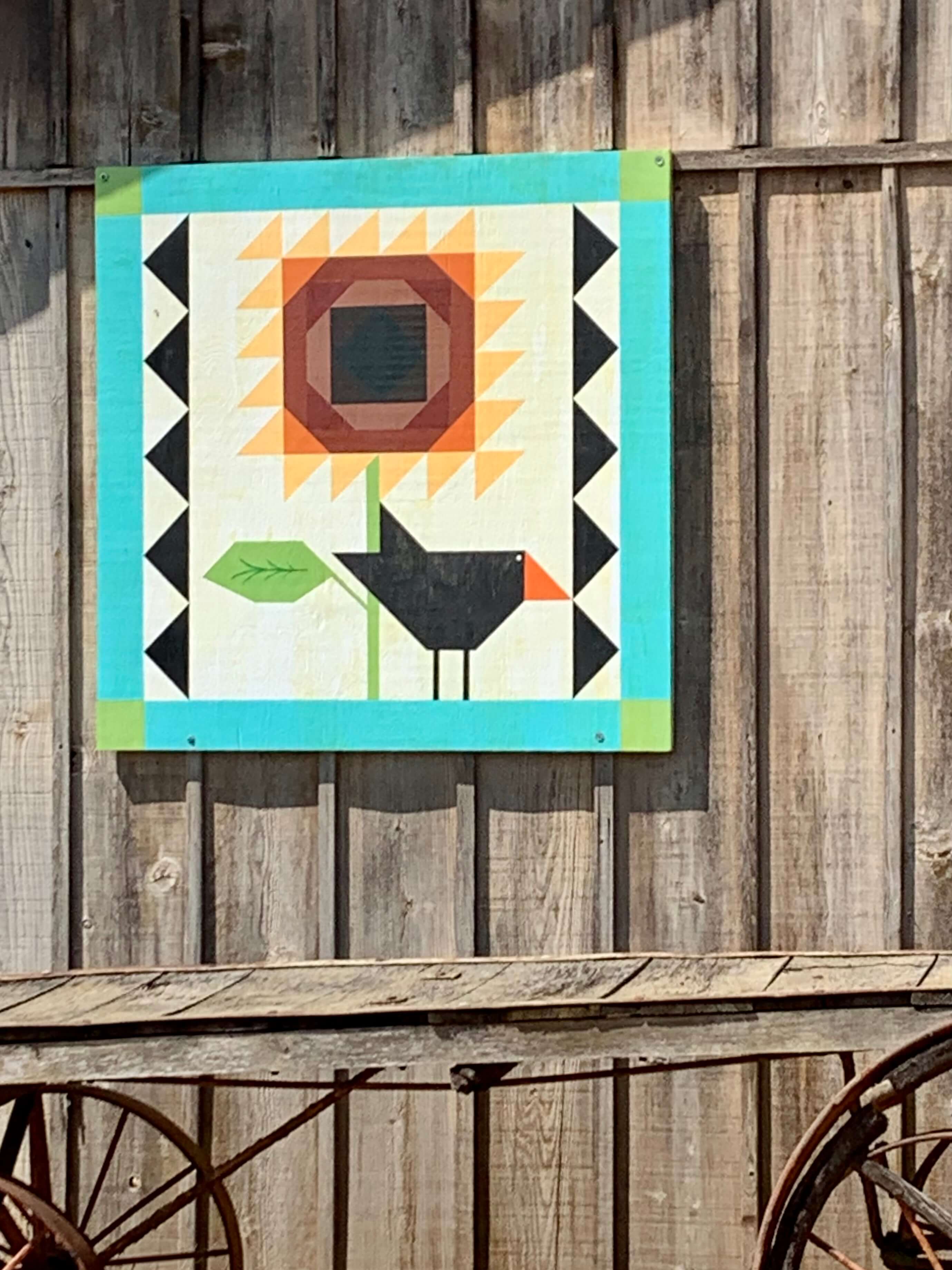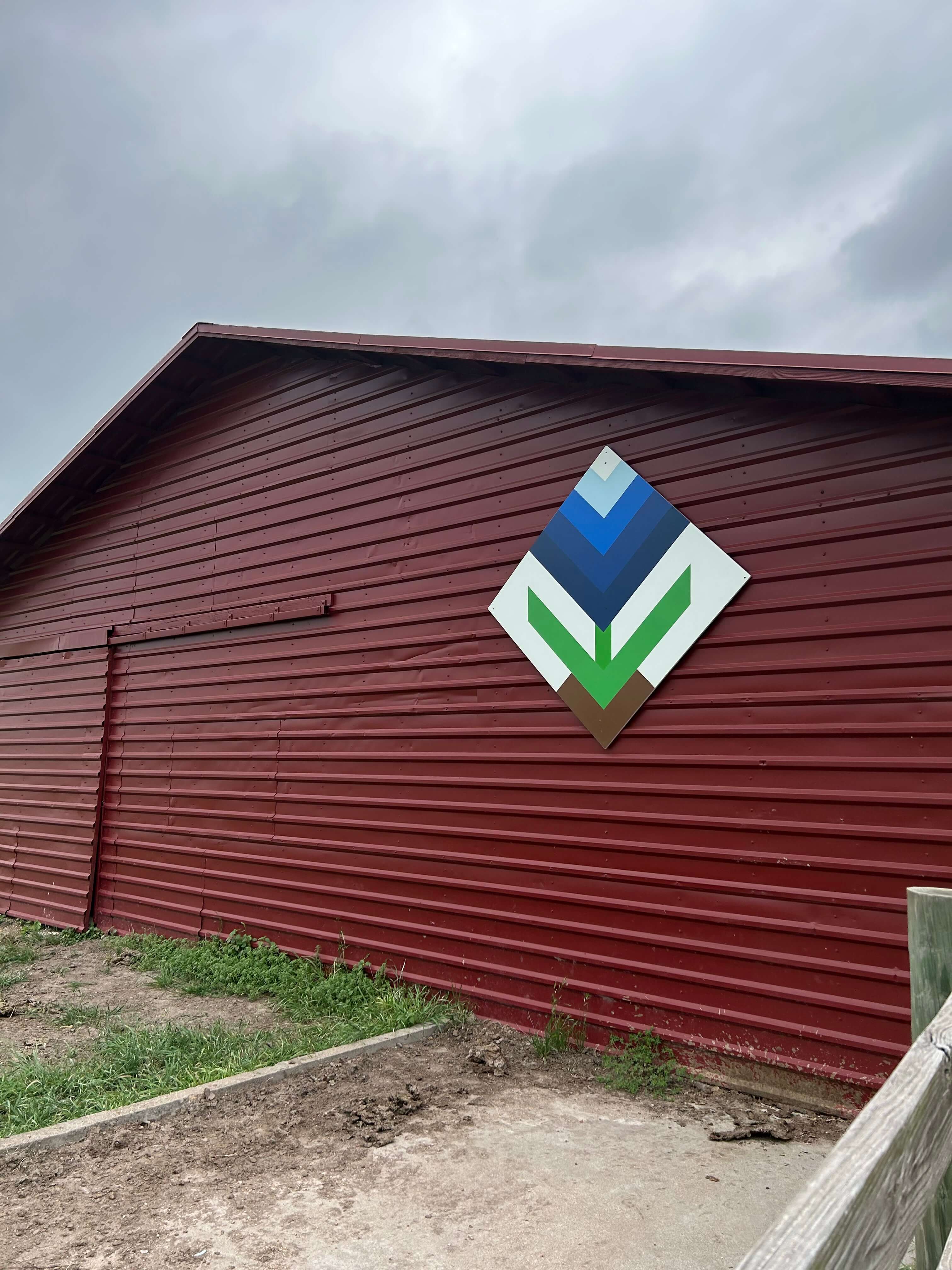 Located at 8026 FM 1291, Fayetteville, TX 78940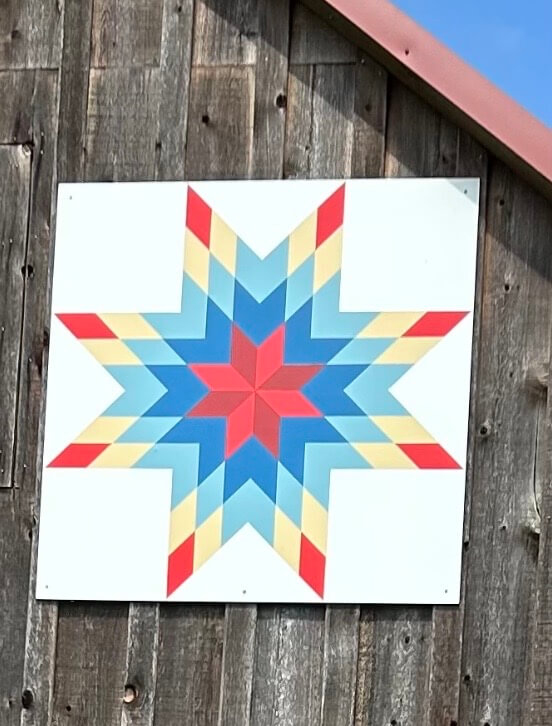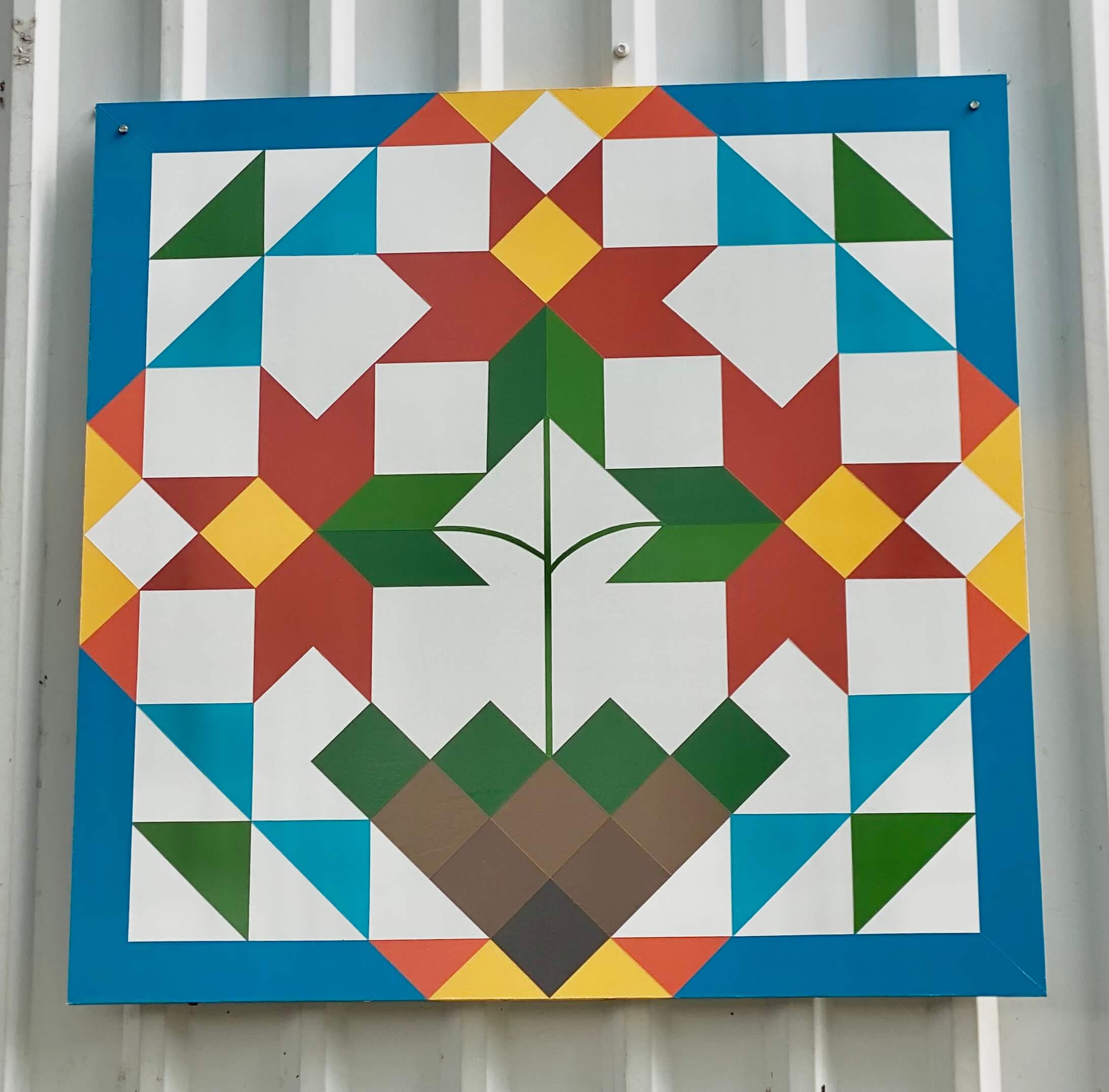 Jeff and Tiffany own The Roost at Flown The Coop, a little tiny home offered on Airbnb in Burton.
Tiffany's Mom is an award winning quilter. Everyone in their family has one of her quilts that she stitched her love into.They are works of art and her legacy. Tiffany says, "although she doesn't have the talent her Mother has for quilting, she hopes to make all of their guests at The Roost feel special by the little touches stitched into their guest house."
The Rooster and Garden Quilt represents two things Tiffany loves, offering hospitality and gardening.  These works of art will overlook the garden at The Roost where they welcome guests.  
Located at 701 N Main St, Burton, TX 77835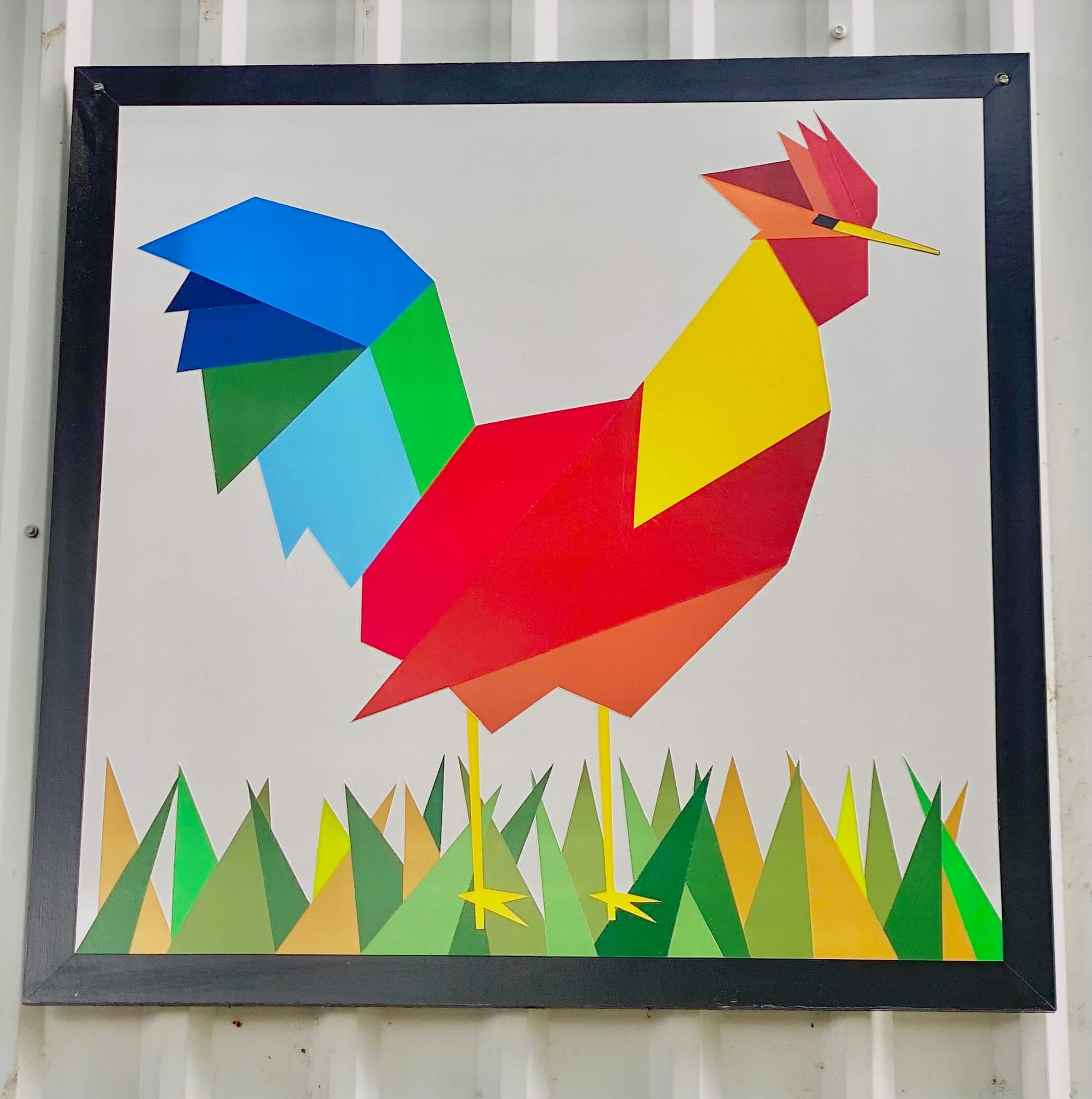 We are 5025 Wickel Rd, Burton TX 77835. The R&L one is on the outside of our guest Barn at The White House on the Hill, and it is for Rob & Linda and all the work and love we have put into this property. The Grape one represents the grape vine Vineyard that Rob has recently put in the last year to replace the 300 Olive Tree Orchard we lost 2 1/2 years ago in the horrible freeze. It is on the outside of the Art Barn at The White House on the Hill.
Located at 5025 Wickel Rd, Burton, TX 77835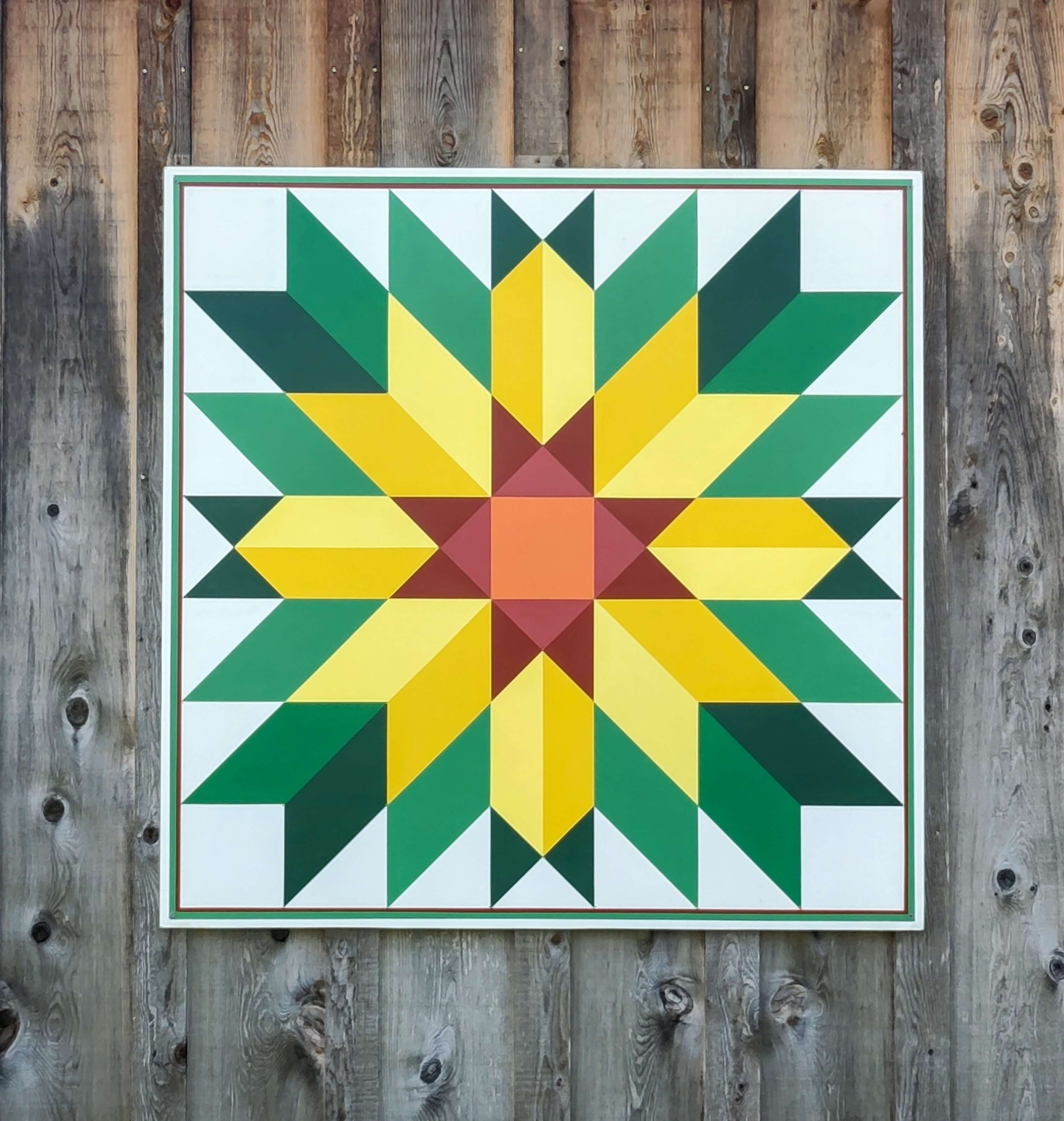 I grew up in North Central Wisconsin, where barn quilts are a part of the landscape. Back home the barn quilts are of the 8 ft variety, hung on the big Mid-Western Barns, and they add a splash of color and art to the rolling countryside. When we moved to the Round Top area, the countryside reminded me very much of "back home", but the splash of color was missing. My husband is from Ohio - home of Donna Sue Groves, who created the very first "official" barn quilt trail. So to honor our roots and ancestors we currently have 2 visible barn quilts on our property, and they bring a piece of home to our home.
Located at 7120 Great Oaks Circle, Burton, TX 77835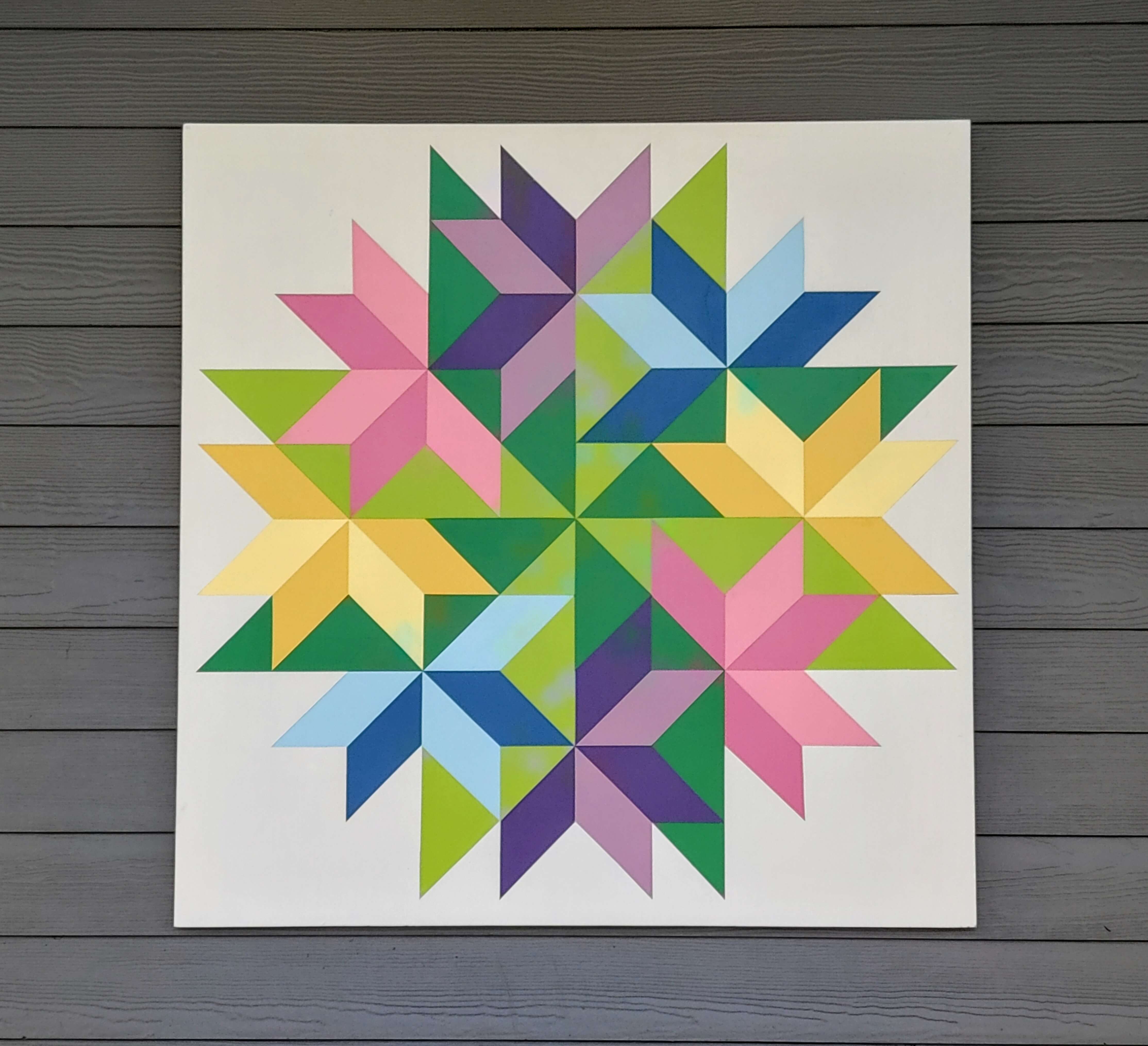 The Texas Quilt Museum was a dream and a goal for decades. As its founders brought thousands of great quilts to International Quilt Festival in Houston each year since 1974, they realized many people were unable to see them because they were on view a relatively short time. They wanted a place where even more people could discover and appreciate quilts as art in a setting that showcased them for longer periods.
In La Grange, a small town in the rolling hills of Central Texas, they discovered a wonderful 19th century building that had lost its luster over time. Over two years, with the help of skilled artisans guided by an architect well-known for re-purposing historically significant buildings, that luster has been restored. During the process, an allied building was acquired, increasing exhibition space to more than 10,000 square feet in three galleries.
The museum officially opened on November 13, 2011. Since then, it has received a Main Street award, was a finalist for the Texas Downtown Association's Presidents Award, and won the prestigious 2012 Preservation Texas award for transforming its two buildings in the city's historic district. It was also voted Best Museum in Fayette County.
Located at 140 W Colorado Street, La Grange, TX 78945
Our barn quilt hangs high at our family farmhouse, Rosie's Homestead, in honor of our Grandmother, Matilda, who was an avid quilter. We are fortunate to have one of her hand sewn quilts and it only seemed appropriate that the colors and design of this piece resembles that very quilt. Our hope is that this art will meet and greet our guests and bring them together in full spirit of country pride.
Located at 1111 Freyburg-Engle Road, Schulenburg, TX 78956